If you have not had enough of strawberries this summer, then the chance to continue enjoying them is a easy cupcake recipe. Strawberry Shortcake Cupcakes are a quick and easy, but by no means the less tasty version of the well known Strawberry Shortcake. You don't believe me? The picture is worth a thousand words.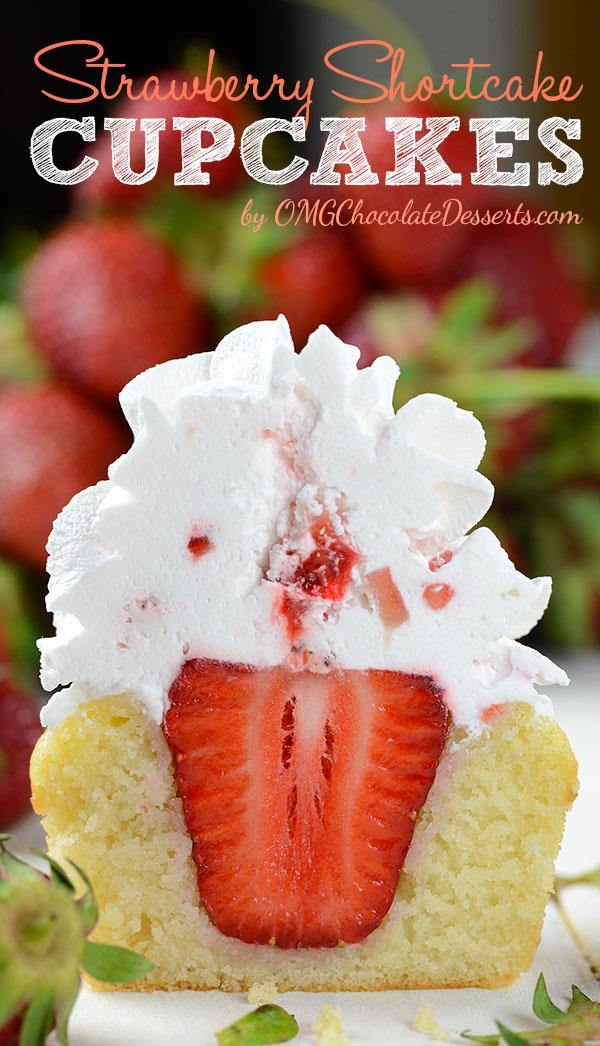 Even though we are slowly entering the season of blueberry and peach treats, it is not time to say goodbye to strawberries just yet. Maybe you have already tried many good recipes which you could have found on different food blogs, but if you are not bored of strawberries yet, here is a quick and a tasty dessert – Strawberry Shortcake Cupcakes.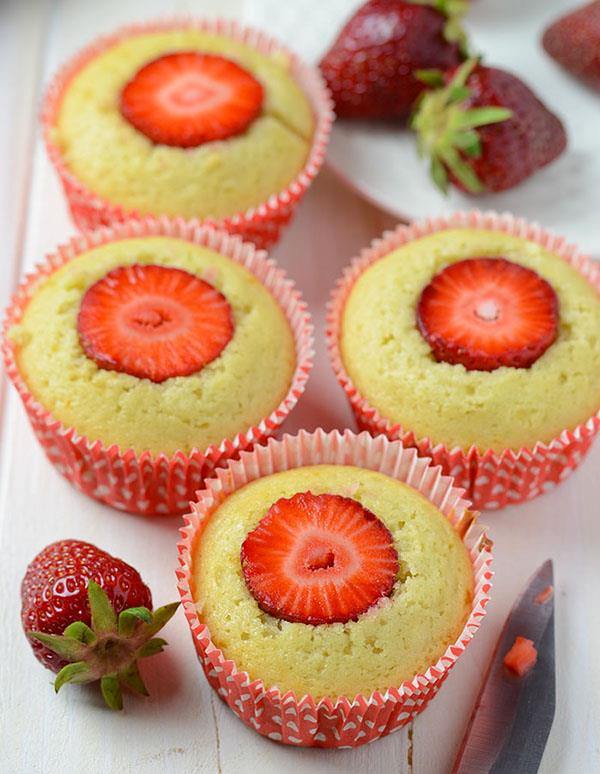 If you are a fan of Strawberry Shortcake, maybe the most popular recipe with strawberries, there is absolutely no chance that you won't like the mini version of this treat in the shape of cupcakes. Anyway, by the time you see the ingredients, you will see that everything is there, just like the famous cake recipe!
The base is the now famous Very Vanilla Cupcake from the Sally Baking Addiction blog, frosting is heavy whipping cream with  small bits of strawberry and instead of the cut pieces of strawberry, which can be found in bundles in the original Strawberry Shortcake, I put whole juicy strawberry in the cupcake.
INGREDIENTS:

1⅔ cups (210g) all-purpose flour (if you don't have kitchen scale fill the cup with spoon when measure and DO NOT overdo it with flour!!!)
½ teaspoon baking powder
¼ teaspoon baking soda
½ teaspoon salt
½ cup unsalted butter- melted
1 cup sugar
2 egg whites
¾ cup milk
¼ cup plain Greek yogurt
2 teaspoons vanilla extract
12 medium strawberries- hulled
For the frosting:
1 ½ cup heavy whipping cream
1 ½ teaspoon vanilla
3-4 tablespoon powdered sugar (or more to taste)
½ cup strawberries chopped into really small pieces (or it will stuck into the piping tip)
INSTRUCTIONS:
Preheat oven to 350F, line standard cupcake pan with 12 liners and set aside.
In a bowl combine flour, baking powder, baking soda and salt; set aside.
Melt the butter in a small sauce pan over low heat and set aside to cool.
Transfer melted butter to a large bowl and whisk in sugar (it will be grainy), then whisk in egg whites, milk, yogurt and vanilla. Whisk by hand or use electric mixer on a low speed.
Slowly add dry ingredients into egg mixture and mix on low speed until combined (the batter should be thick). Divide the batter into 12 cupcake liner (it will be about ¾ full) and bake 20 minutes (until the toothpick inserted in the center comes out clean). Let them cool in the pan for 10 minutes then transfer to a rack to cool completely.
With a sharp knife hollow out the center of the cupcake and insert the strawberry inside.
To make the frosting in a large bowl beat heavy cream until soft peaks form, then add powdered sugar and vanilla and continue mixing on high speed until stiff peaks form. Stir in strawberries chopped into really fine pieces.Pipe the frosting onto cooled cupcakes.
Store in the fridge. Garnish with strawberries before serving.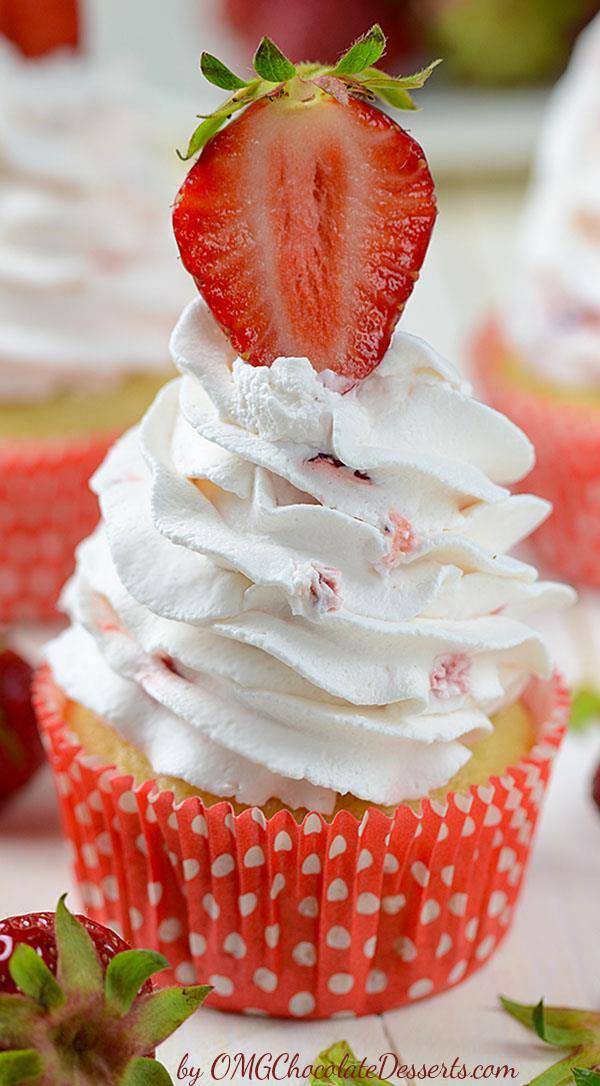 And in the blink of an eye, you will have a delightful dessert on your table, which, carefully cooled, will be the real refreshment for the summer days, but also the ideal quick dessert if you are expecting guests. All in all I see no reason why these yummy Strawberry Shortcake Cupcakes won't find a place on your table. Enjoy!!!