Delicious seafood dish that is easy to prepare and ready in under 45 minutes. Cheesy seafood enchiladas packed with large shrimp, jalapenos, onions, tomatoes and all baked in spicy, creamy sauce.
"You fantastic fish, you!" Well, actually shrimp but still fantastic!
These enchiladas were definitely fantastic. All that gooey, melted cheese inside with shrimp, onions, tomatoes and jalapenos, wrapped in a cream sauce soaked tortilla…ah, perfection! Best part is that you can adjust the heat to your liking. You can add more cayenne pepper (just be careful with how much you add) and add an extra jalapeno if you'd like a spicier dish.
INGREDIENTS:
12 oz large shrimp
1 small yellow onion
2 large jalapenos, seeded
2 medium tomatoes "on a vine'
1-2 Tbsp vegetable oil for cooking
1½ cups heavy cream
½ cup sour cream
2 garlic cloves
¼ tsp cayenne pepper
¼ tsp chipotle chili powder
¼ tsp cumin
Salt
4 medium tortillas (flour tortillas recommended)
About 5 oz Monterrey Jack cheese, grated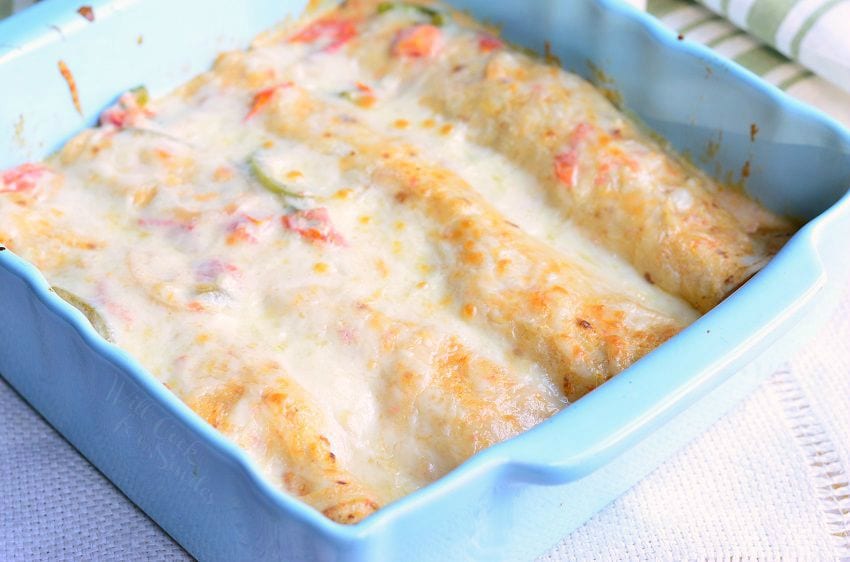 INSTRUCTIONS:
Preheat oven to 350 and grease a 9-inch baking dish.
Preheat oil in a large cooking pan over medium heat.
Slice onions and seeded jalapenos thinly and dice tomatoes.
Saute veggies with some salt until softened.
Whisk heavy cream, sour cream, pressed garlic, spices and salt in a mixing bowl and add it to the pan with veggies. Stir well.
Add shrimp and cook, still over medium heat, until shrimp is almost done.
Add some cheese in the center of each tortilla.
Using slotted spoon, scoop out about a quarter of shrimp/veggie mixture, draining most of the sauce, into the tortilla. Roll tortilla and place it in the baking dish, seam down. Repeat with remaining tortillas, shrimp and veggies.
Pour sauce over enchiladas and spread remaining cheese on top.
Bake for 15-18 minutes.
Serve right away.