The real magic happens with the frosting!  I used Nestle la lechera dulce de leche caramel to make a caramel cream cheese frosting!  If you can't get a hold of the Dulce de Leche, I'm sure caramel ice cream topping would work well too.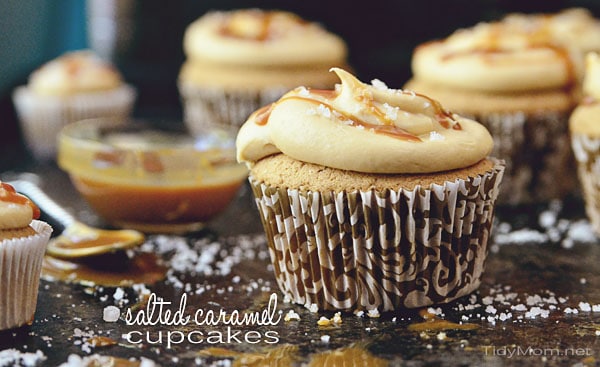 With the left over dulce de leche, I drizzled a little over the top of the frosting then a light sprinkling of fleur de sel that I picked up at The Meadow Shop in New York City!  A beautiful and unexpected shop that I fell in love with that specializes in artisan salt and gourmet chocolate and more! A must stop if you ever find your self in NYC's West Village!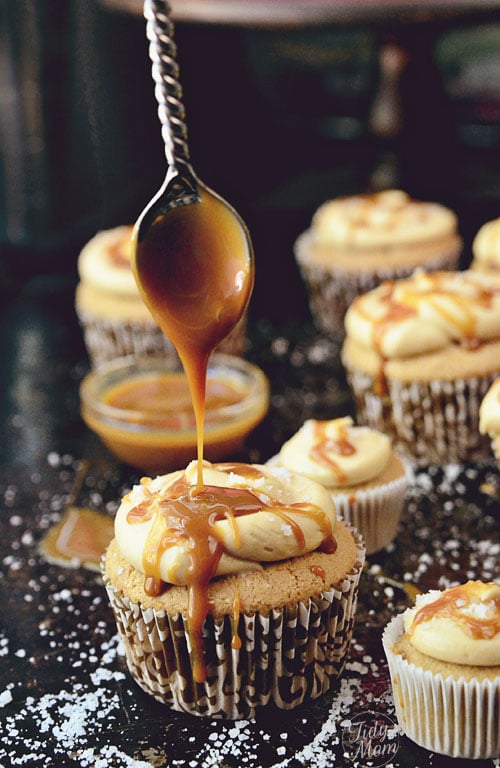 INGREDIENTS: 

For Caramel Cupcakes
1 box Duncan Hines Signature Caramel Cake Mix* (or Butter Cake Mix or Duncan Hines French Vanilla Cake Mix with half a cup of caramel sauce)
3 eggs
1/2 cup butter, melted
1/2 cup Coffee-Mate Caramel Macchiato liquid creamer
1/2 cup water
For Salted Caramel Frosting
1 (8 ounce) cream cheese, softened
1/2 cup butter, softened
1 cup dulce de leche caramel
1 8 ounce block cream cheese, softened
7-8 cups powdered sugar, sifted
fleur de sel
1/2 cup butter, softened
1 cup Nestle la lechera dulce de leche caramel (or caramel sweetened condensed milk)
7-8 cups Powdered Sugar, sifted
fleur de sel (or sea salt)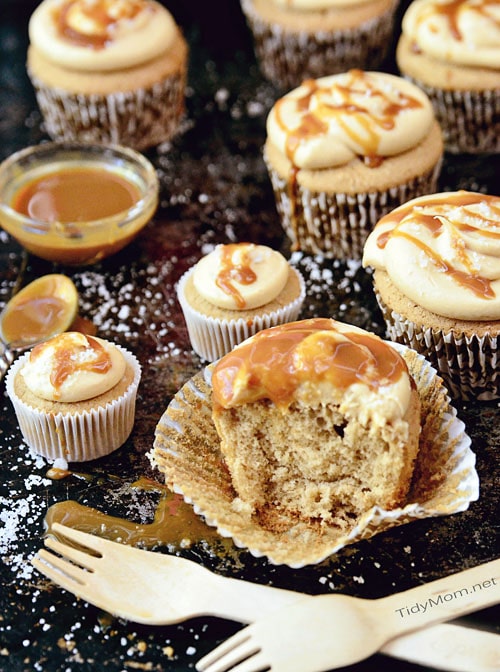 INSTRUCTIONS: 
Heat oven to 350° and line cupcake pans with cupcake papers.
In a large bowl, using electric mixer, combine cake mix, eggs, butter, cream and water for 1 minute on low. Scrap sides, then mix on high for 1 minute.
Divide batter evenly between cupcake wells and gently shake to smooth batter. Bake 18-20 minutes (10 minutes for mini cupcakes) or until toothpick inserted into the center cupcakes comes out clean.
Let cupcakes cool completely before frosting.
Unfrosted cupcakes can be frozen in a covered container for 1-2 weeks.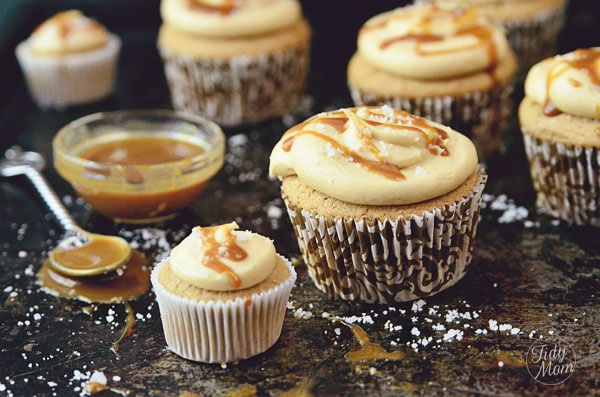 For Salted Caramel Cream Cheese Frosting
Place butter in a large mixing bowl and blend slightly. Add cream cheese and blend until combined, about 30 seconds.
Add the caramel and mix until fully incorporated.
Slowly add powdered sugar one cup at a time and blend on low speed until combined and desired consistency (you want your frosting pretty thick).
Increase to medium speed and beat until it begins to get fluffy.(about 1 minute)
Pipe caramel frosting on top of cupcakes with an extra large round pastry tip
Drizzle frosting with dulce de leche caramel
Lightly garnish with fleur de sel