A great dish to serve at your holiday party is this Rosemary and Garlic Roast Beef. Tim and I had it for Thanksgiving since we had the turkey I made for the blog a few days before T-day and I know we'll be having turkey for Christmas. So it was a great way to spice things up a bit.
The roast did not disappoint! Juicy, garlicky, fragrant and incredibly mouthwatering. And the leftovers made the most amazing sandwiches. ?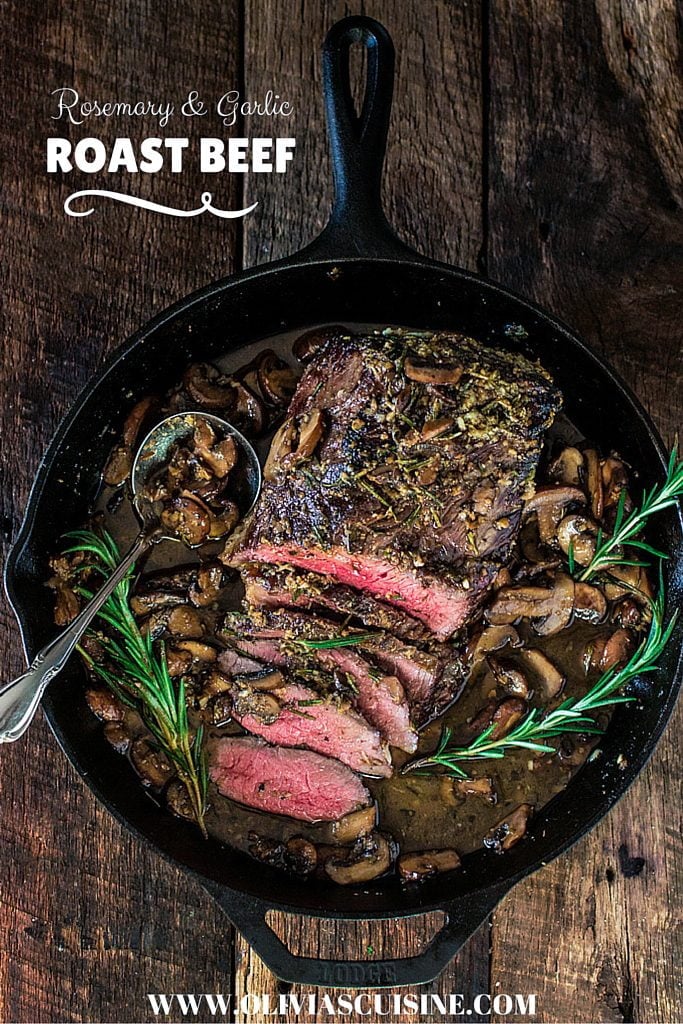 So yeah, a flavorful meat dish, crusted with garlic and rosemary and roasted to perfection, plus delicious sauce, plus buttery mushrooms swimming in that sauce equals the reason why your friends will keep asking you to host dinner parties over and over again.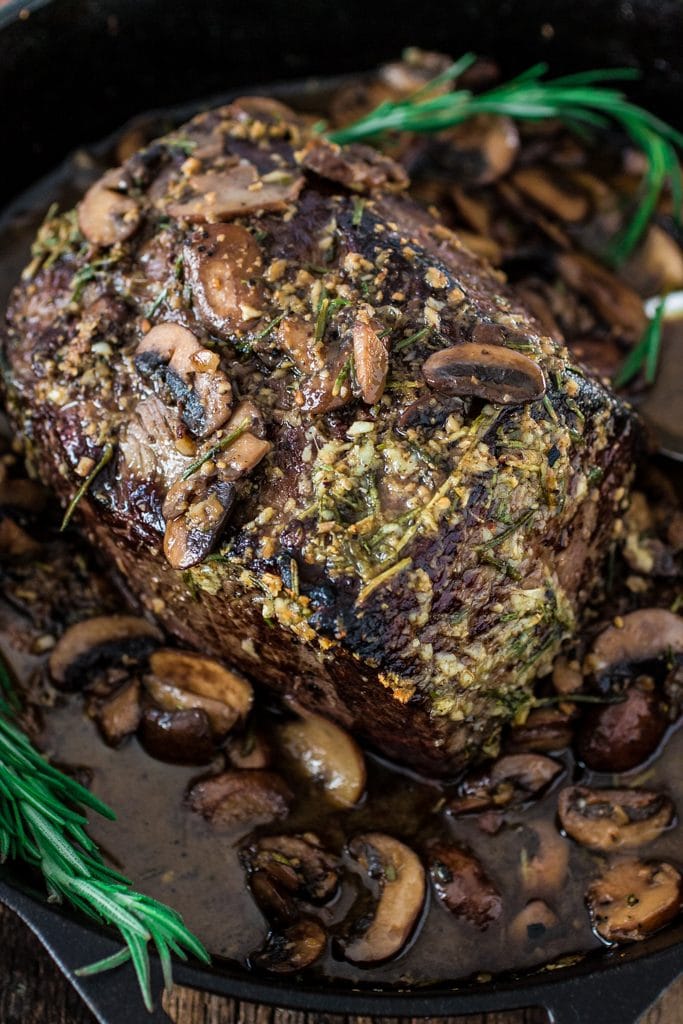 INGREDIENTS
3lbs Rib Eye roast
¼ cup chopped Fresh rosemary, or other favorite herbs
¼ cup chopped garlic
Salt and freshly ground pepper to taste
4 tablespoons olive oil, divided
4 tablespoons butter, divided
4 cups of a variety of Mushrooms, sliced to about the same size
1 cup of stock
INSTRUCTIONS:
Preheat oven to 350F.
Tie the roast and season generously with salt and pepper.
Mix together rosemary and garlic. Add 2 tablespoons of olive oil and stir to combine. Reserve.
In a cast iron skillet, over medium heat, heat 2 tablespoons of olive oil and, once smoking hot, sear all sides of the meat.
Remove skillet from heat. Brush the herb-garlic mixture all over the roast.
Bring the roast, in the cast iron skillet, to the preheated oven and cook for about 25-30 minutes or until medium-rare (145 degrees internal temperature). Let it rest for at least 5 minutes before serving.
While the roast is resting, sauté the mushrooms with 2 tablespoons butter until cooked through. Season with salt and pepper.
Remove roast from the cast iron skillet and bring the skillet to the stovetop. Add stock to the pan and deglaze the pan, scraping all the bits from the bottom. Allow to simmer until thick.
Add the mushrooms to the sauce, stir in the remaining 2 tablespoons of butter and stir until the sauce is silky. Then, place the roast back in the cast iron with the sauce and spoon some of the sauce over the roast.
Garnish serving platter with fresh rosemary if desired.