This meatloaf will ask of you that you do a little bit of prep work ahead of time. Ideally, you should do that the day before: it'll reduce the workload somewhat so you won't feel as though you spent the entire day working on dinner…
Unless you have nothing else planned for that day and, like me, find cooking to be particularly enjoyable and relaxing…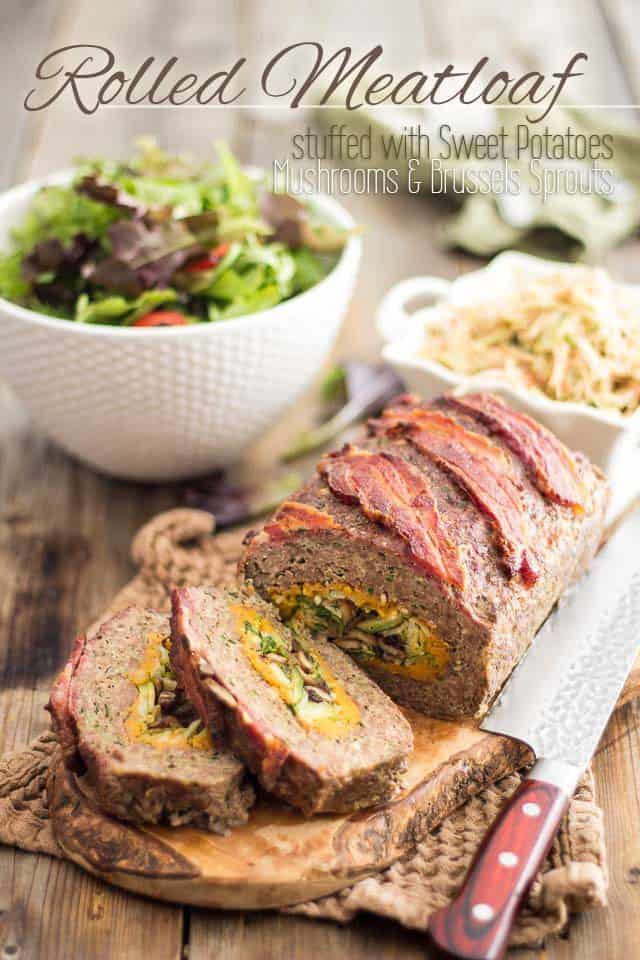 INGREDIENTS:

THE MEAT:
900g (2lb) grassfed ground beef
1 small onion, diced
2 cloves garlic, minced
2 large eggs
1/4 cup fresh parsley, chopped
2 tbsp dried mustard
1 tbsp fresh thyme, finely chopped
1 tbsp coriander seeds, crushed
1 tsp onion powder
1 tsp garlic powder
1 tsp Himalayan salt
1 tsp freshly cracked black pepper
1/2 tsp baking soda
THE STUFFING:
1 small sweet potato, baked and cooled
225g (1/2lb) Brussels sprouts, steamed and cooled
1-2 tbsp ghee
1 small onion, finely chopped
1/4 tsp Himalayan salt
1/4 tsp freshly cracked black pepper
227g (1/2lb) mushrooms, chopped
THE DELICIOUS ADORNMENT:
2 thick slices smoked bacon, cut in half crosswise
INSTRUCTIONS:
Prep ahead of time (ideally the previous day):
Cook the sweet potato following your favorite method*, then let it cool, peel and mash it with a fork.
Steam the Brussels sprouts until cooked but still slightly firm. Let them cool completely and then slice them really thin, preferably with the slicing disc of yourfood processor.
Melt 1 or 2 tablespoons of ghee in a large skillet set over medium heat. Add onion, salt and pepper and cook until the onion turns translucent, about 3-5 minutes. Add chopped mushrooms and cook until soft, about 3 minutes. Set aside to cool.
Now let's make some meatloaf
Preheat the oven to 375F and grease a 9" x 5" loaf panwell with ghee or lard. Also line a large baking sheet with parchment paper and set it aside.
Add all the ingredients listed under "meat layer" to a large mixing bowl and knead well with your hands until well combined.
Dump that mixture right in the middle of the parchment paper lined baking sheet and, with your fingers, spread the meat as evenly as possible to form a perfect 8" x 13" rectangle.
Spread the sweet potato puree thinly and evenly across the meat, then arrange the shaved Brussels sprouts over that layer of sweet potatoes. Finish with the onion and mushrooms mixture.
Using the parchment paper for support and starting at one of the shortest ends, delicately roll the meat onto itself, as tightly as you can. Peel the parchment paper off as you go.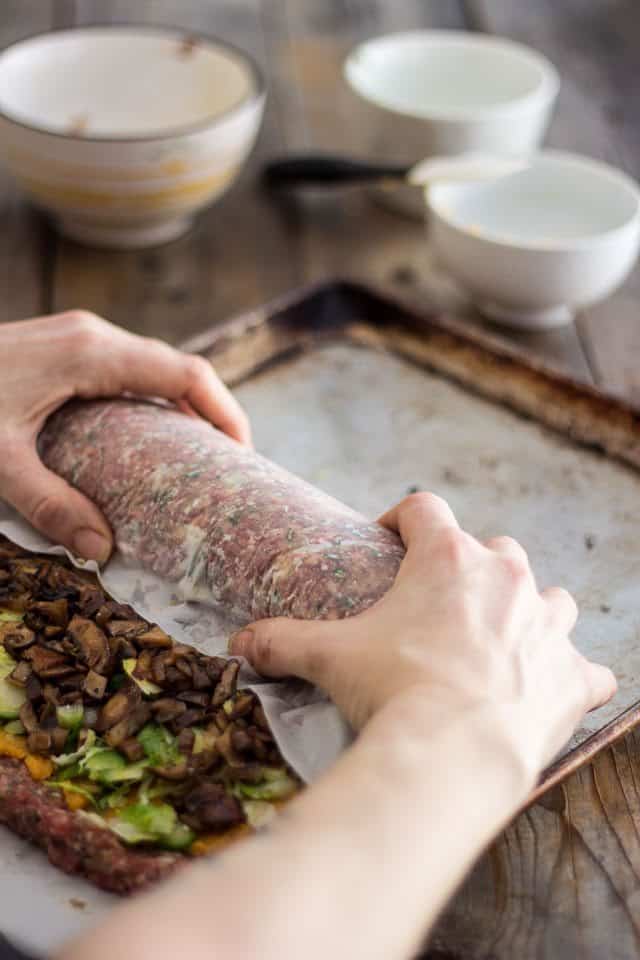 Delicately transfer your meatloaf to the loaf pan taking care to place the seam underneath. Shape the top nicely and arrange the bacon strips on a diagonal across the loaf.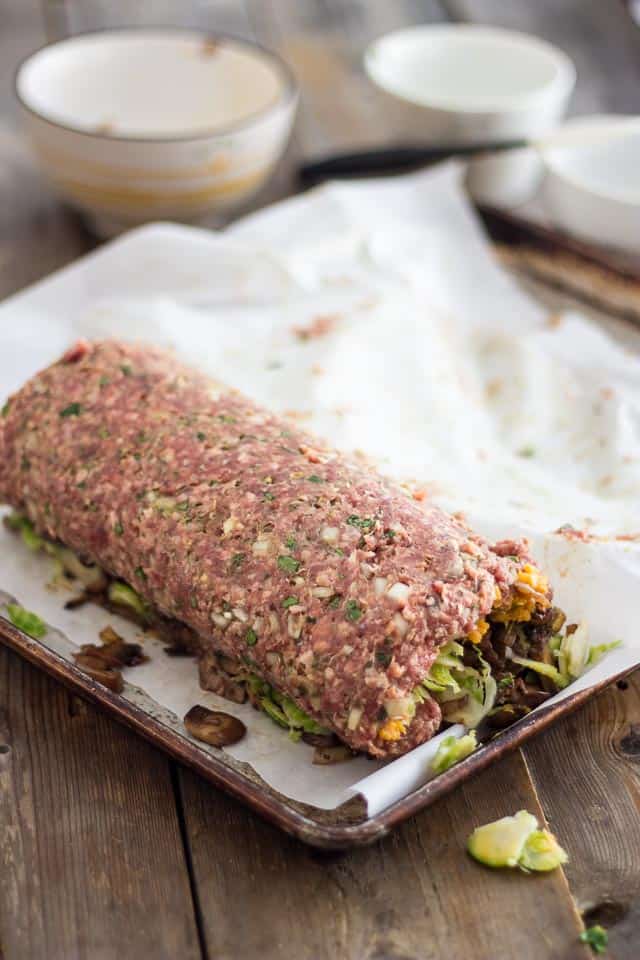 Bake uncovered in a 375F oven for about 45-50 minutes. Remove from oven, drain excess liquid and return the loaf to the oven for 10 minutes or until the top is golden brown and the bacon looks nice and crispy. Kill the heat, crack the oven door open and let your meatloaf rest for 10-15 minutes.
Remove from oven, slice and serve.
As you can see, this meatloaf is dense. Real dense. It has to be if it's going to hold its shape and not disintegrate into a pile of crumbled meat when you put your knife to it. But even though it's dense, it's still very moist and tender and has a very agreeable texture to it. Kind of similar to sausage, I'd say…