Reese's Frankenstein Cupcakes make with M&M's, chocolate chips, sprinkles. green frosting and topped with a Reese's Peanut Butter Cup for the fabulous head of hair! Last year I made adorable Frankenstein Cupcakes  and this year I wanted to make a similar type and I figured the only want to make them better was to work in one of my favorite treats… Reese's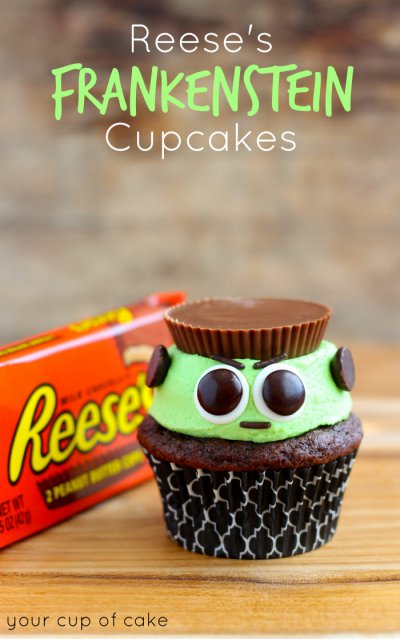 These white chocolate melts are made by Wilton or a ton of other companies! Any will work just fine

 Let them cool a little before piping them out because it will be really runny and you don't want to make a mess, but don't fret! It always takes me a few tries to get it right.  Don't wait long to put the M&M's on, the melts will set quickly.  Keep in mind you can make blue-eyed monsters or scary red-eyed ones.
Oh! And you'll notice I fill my piping bag in a glass because I still haven't been able to grow that third arm

I put the bag in the glass and then fold the excess over the sides… I hope that makes sense.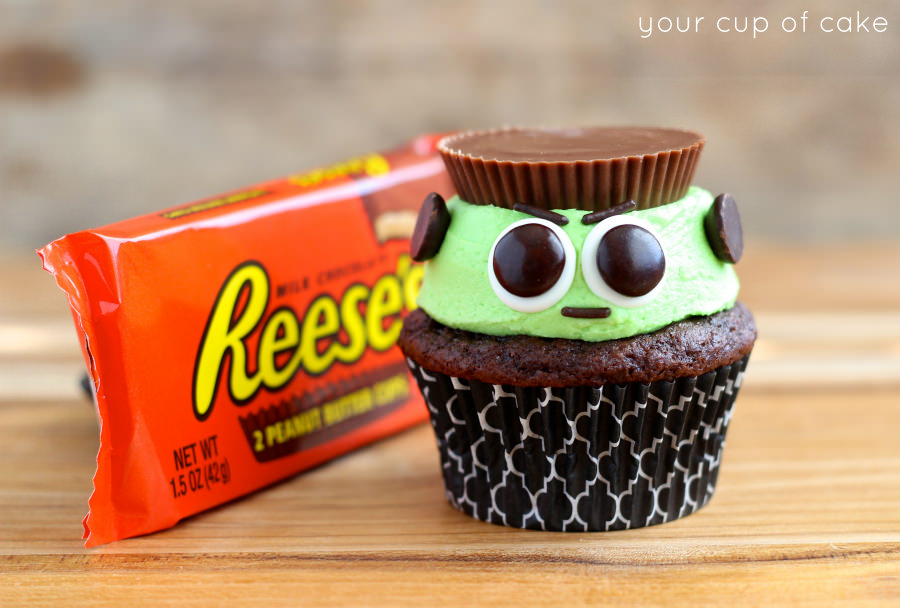 INGREDIENTS:

Chocolate Cake:
1 devil's food cake mix
3 eggs
1/2 C. oil
2/3 C. sour cream
1/2 C. buttermilk or milk
2 tsp. vanilla extract
Frosting:
1/2 C. butter, softened
8 oz. cream cheese, (or an extra 1/2 C. butter, softened)
3-4 C. powdered sugar
2-3 Tbsp. milk
Green Food Coloring
For Decorations:
Reese's Cups (20)
white chocolate melts (1/3 Cup)
chocolate M&M's (40) or you can use any of the colors or Junior Mints!
Chocolate Chips (40)
Chocolate Jimmy Sprinkles
INSTRUCTIONS: 
Preheat oven to 350 degrees and line pans with cupcake liners.
Sift cake mix into a large bowl and add eggs, oil, sour creme, buttermilk and vanilla extract and stir until smooth.
Fill cupcake liners 3/4 full and bake for 14-17 minutes or until an inserted knife comes out clean.
Let cool.
Beat butter and cream cheese until smooth. Add 2 cups powdered sugar and 1 tablespoon milk. The continue to add in more powdered sugar until you reach your desired consistency. Add more milk if it becomes too thick and add food coloring.
To Make Eyes: (see photos) Melt white chocolate melts, pour into a small bag to make a mini piping bag, pipe dime-sized circles onto wax paper then immediately place a brown M&M on top and let set for a few minutes.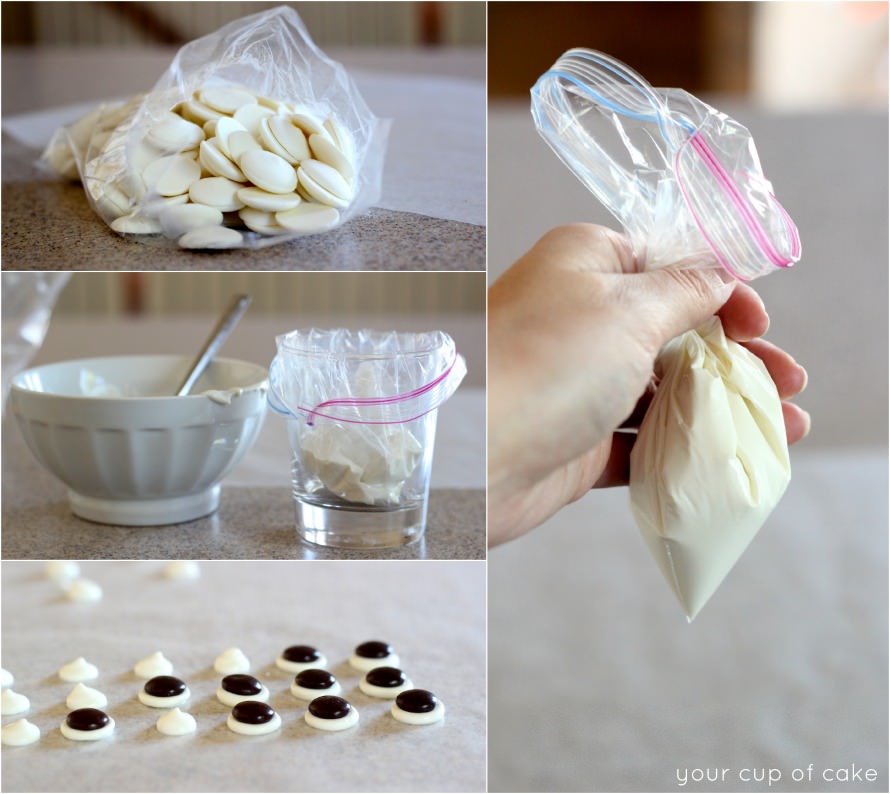 Pipe green frosting onto cupcakes (see photos) and shape the frosting into Frank's head. You can make it as square-shaped as you like! Place a Reese's Cup on top, put eyes on and then chocolate chips as"bolts" and use the Jimmies to give eyebrows and a mouth!