With the busy schedule, I still try to find time to make and provide my children as much homemade snack as possible.  The Banana Bread I shared a while back is one of their favorites and I've given it a twist with this delicious Nutella Banana Bread.
INGREDIENTS: 

1¾ cups flour
1 tsp. baking powder
1 tsp. baking soda
½ tsp. salt
½ tsp. cinnamon
⅛ tsp. allspice
⅓ cup Nutella
½ cup honey
1½ cups mashed ripe banana
½ cup buttermilk
1 large egg
½ tsp. vanilla extract
½ tsp. almond extract
Topping:
2 Tbsp. sliced almonds
1½ tsp. turbinado sugar
INSTRUCTIONS:
Preheat oven to 350°F. Spray a 9 x 5 inch loaf pan with nonstick spray and place a sheet of parchment paper on bottom.

Whisk all the dry ingredients (flour, baking powder, baking soda, salt, cinnamon, and allspice) together in a large bowl. Make a well in the center of the mixture.

Combine Nutella and honey in a small bowl and heat in the microwave until melted, (about 30 seconds) and cooled slightly.
Combine mashed banana, buttermilk, egg, and extracts in the medium bowl.

Add cooled Nutella-honey mixture in the medium bowl.

Add to flour mixture in the large bowl and stir just until combined.

Pour batter into the greased loaf pan and top with almonds and turbinado sugar.

Bake at 350°F for 50-60 minutes, rotating the pan halfway through. The bread is ready when an inserted skewer in the center comes out clean. Remove from oven and cool in the pan on a wire rack for 10 minutes, then remove from pans and cool completely.
Wrap the bread well and store at room temperature up to 2 days, or in the refrigerator up to 4 days. To freeze, wrap tightly in foil or freezer wrap.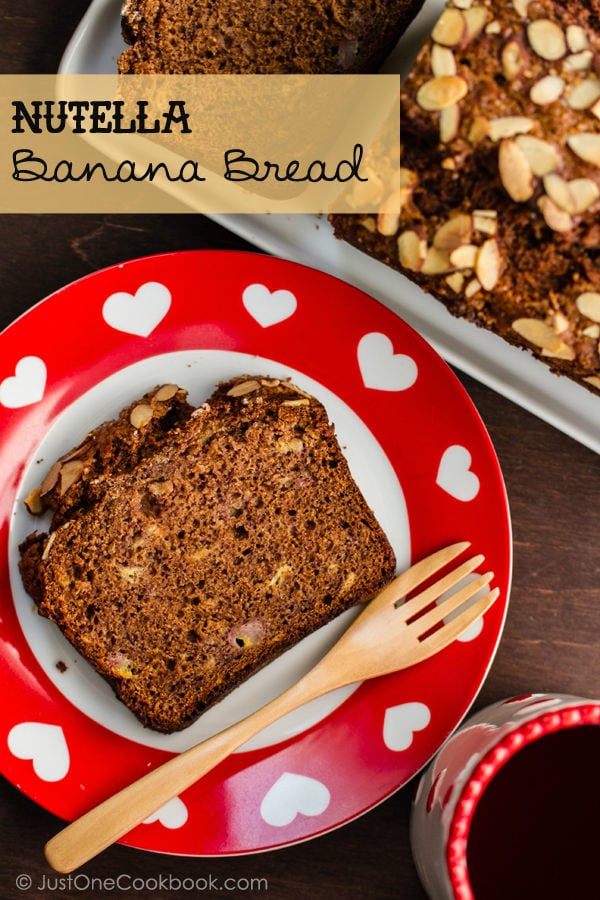 Can you smell the  Nutella and banana combo?  Yum…  Hope you will enjoy making this for your breakfast or tea time.