Molasses Dipped Chicken with Mango Salsa is the star in this flavor-packed show. Chicken dipped in molasses and buttermilk, dredged in spiced-up flour, seared and baked. Then, it is topped off with sweet and spicy Mango Salsa.
The two main actors, chicken and salsa, are quite wonderful by themselves, but for this recipe, place them together and let their characters develop.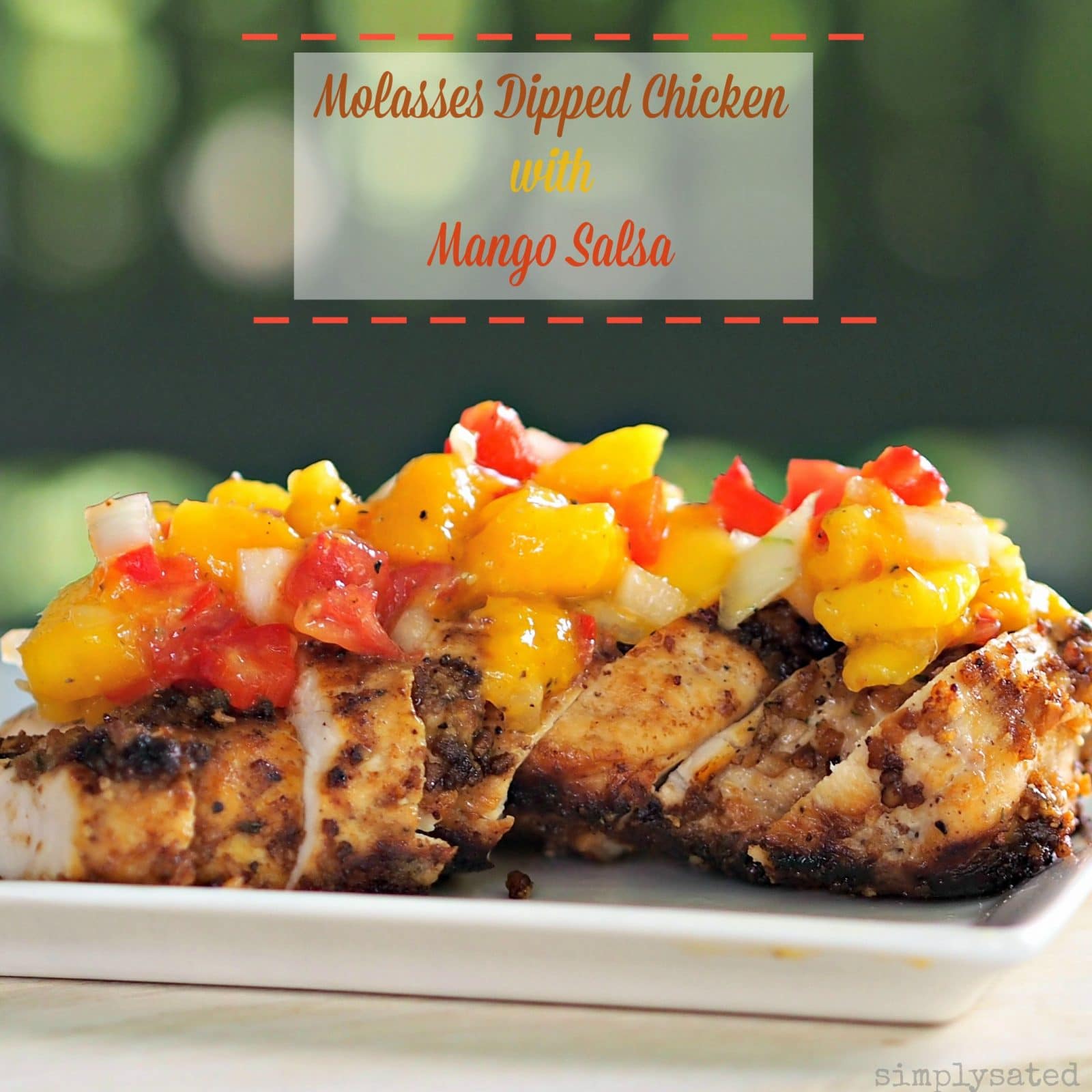 INGREDIENTS: 

For the Chicken:
½ cup molasses
½ cup buttermilk
2 cups flour
1½ cups bread crumbs – Panko crumbs work well, too
1½ teaspoon coriander
1½ teaspoon dried thyme
1½ teaspoon salt
½ teaspoon black pepper
1½ teaspoon Chinese Five Spice (see notes)
4 chicken breasts – skinned and boned
½ cup peanut or canola oil
—————–
For the Mango Salsa:
2 mangos, peeled, pitted and chopped
½ cup cherry tomatoes – cut in half
½ cup sweet yellow onion – diced
1 tablespoon chipotle peppers in adobo sauce or poblano chile pepper – diced
⅓ cup red or yellow bell pepper – diced
1½ tablespoons fresh lime juice
1 tablespoon canola oil
½ teaspoon coriander
½ teaspoon Kosher salt
½ teaspoon ground black pepper
INSTRUCTIONS: 

For the chicken:
Preheat oven to 375F.
Cover a sheet pan with aluminum foil and set it aside. Salt and pepper the chicken.
Combine all dry ingredients – mix well and pour onto a flat dish or waxed paper. Combine molasses and buttermilk in a shallow dish. Mix well.
Heat oil in a cast iron skillet over medium heat.
Dip chicken in molasses mixture, let excess drip off then dredge in flour mixture. Place the breast in the hot oil.
Repeat the process with the 4 chicken breasts. Cook chicken 3-4 minutes per side.
Transfer chicken to the aluminum foil-covered sheet pan or baking dish.
Bake 15 minutes or until chicken is golden and juices run clear. Take care not to over-bake the chicken.
Remove the chicken from the oven, cover loosely and let it rest 3-5 minutes.
When ready to serve, slice the breasts diagonally and arrange the pieces on a serving dish, overlapping sides a little.
Serve the chicken topped with Mango Salsa.
For the Mango Salsa:
Gently combine all ingredients.
Cover and refrigerate any leftovers.