This recipe for Hawaiian Chicken Kabobs is juicy chicken breast, pineapple and vegetables in a sweet and tangy sauce, threaded onto skewers and grilled to perfection. Serve with coconut rice for a taste of the tropics at home!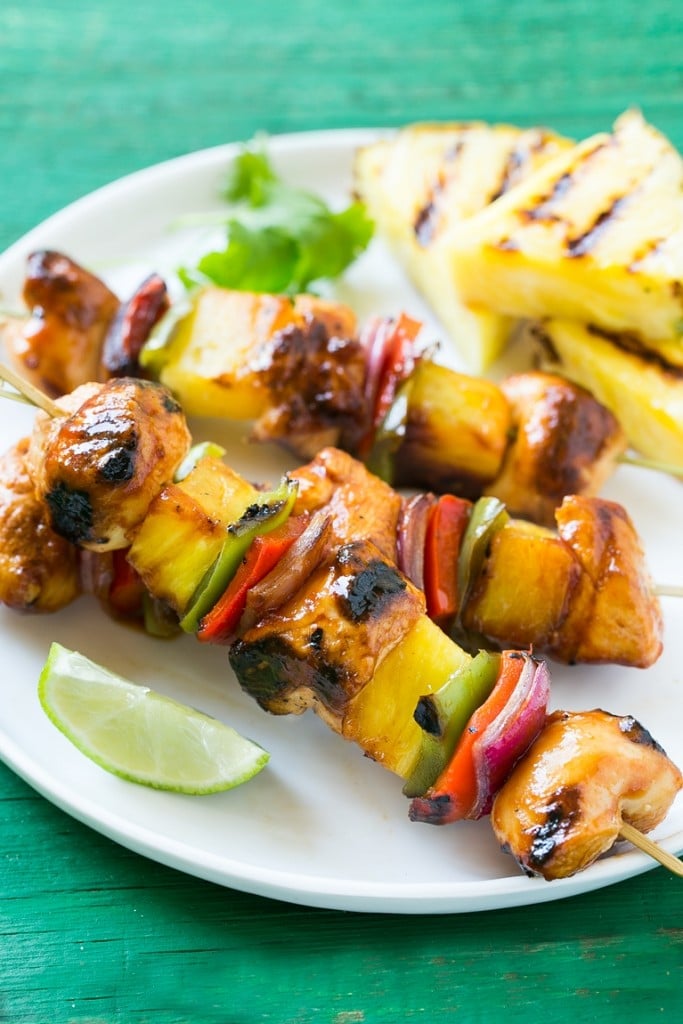 These hawaiian chicken kabobs would make the perfect entree for a summer party, or just for when it's cold and raining out and you want to pretend like you're on a beach somewhere sunny. I'm not waiting for warmer weather to make them, I've got this recipe on my menu plan again for next week!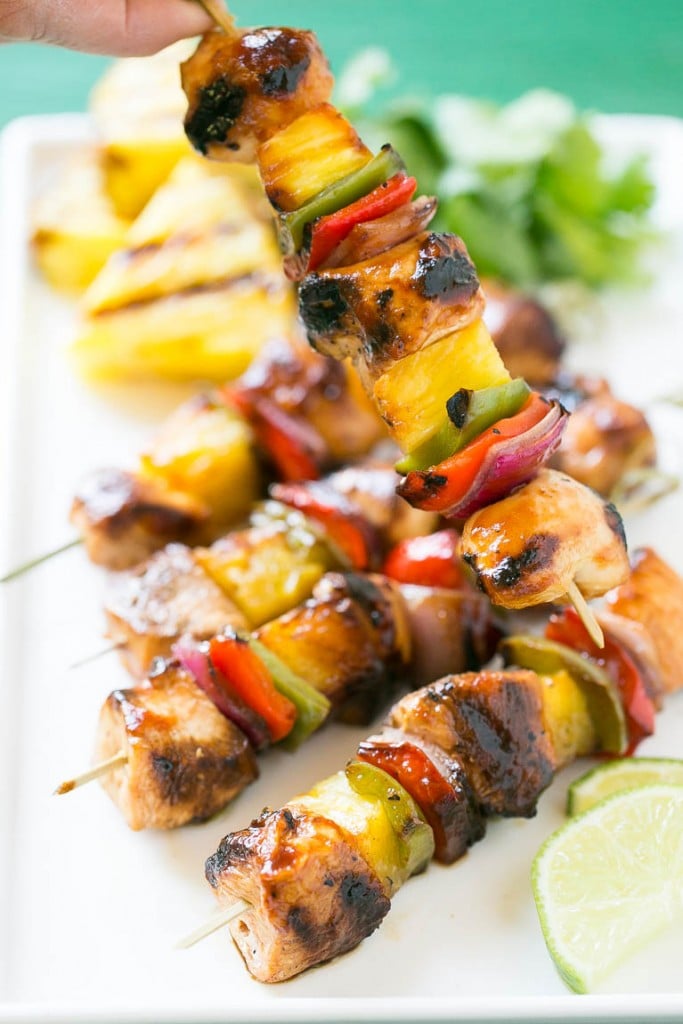 INGREDIENTS: 


For the marinade:
¼ cup ketchup
2 tablespoons brown sugar
¼ cup soy sauce
¼ cup pineapple juice
1 tablespoon of rice vinegar
2 teaspoons of finely minced peeled ginger
2 teaspoons of toasted sesame oil
Salt and pepper to taste
To assemble:
1 and ½ tablespoons of olive oil
1 lb of boneless skinless chicken breast, cut into 1 and ½ inch cubes
1 cup of pineapple chunks, approximately 1 to 1 and ½ inches in size (Canned is fine)
1 small red bell pepper, cut into 1 inch pieces
1 small green bell pepper, cut into 1 inch pieces
1 medium red onion, cut into 1 inch pieces
Optional garnishes: chopped cilantro, lime wedges
Optional side dish: coconut rice
INSTRUCTIONS:
In a medium bowl combine the ketchup, brown sugar, soy sauce, pineapple juice, rice vinegar, ginger and sesame oil. Season to taste with salt and pepper.
Place the chicken in a large resealable bag and pour half of the over the chicken; reserve the remaining marinade in the refrigerator. Marinate the chicken for at least 1 hour or up to 4 hours.
Soak 4 long bamboo skewers in cold water for 20 minutes.
Heat a grill or grill pan over medium high heat.
Thread the chicken, pineapple, bell peppers and red onion alternately onto the skewers. Drizzle the skewers with the olive oil and season with salt and pepper.
Grill for 5 minutes on each side. Brush the marinade all over each kabob and grill for one minute more on each side. Serve immediately, garnish with cilantro and lime wedges if desired.