Not only was the fried calamari excellent, she served it with a lemony aioli sauce and a side of fresh cut lemon that was divine. I've always dipped in tartar sauce or marinara sauce, but this sauce was light and added to the experience.
I provided fresh lemon and she had already prepared the lemony aioli. I had a small fry baby cooker she used and Jennifer's station was the hit of the party. The trick when frying was to prevent overcrowding in the fryer and only prepare a small amount at a time.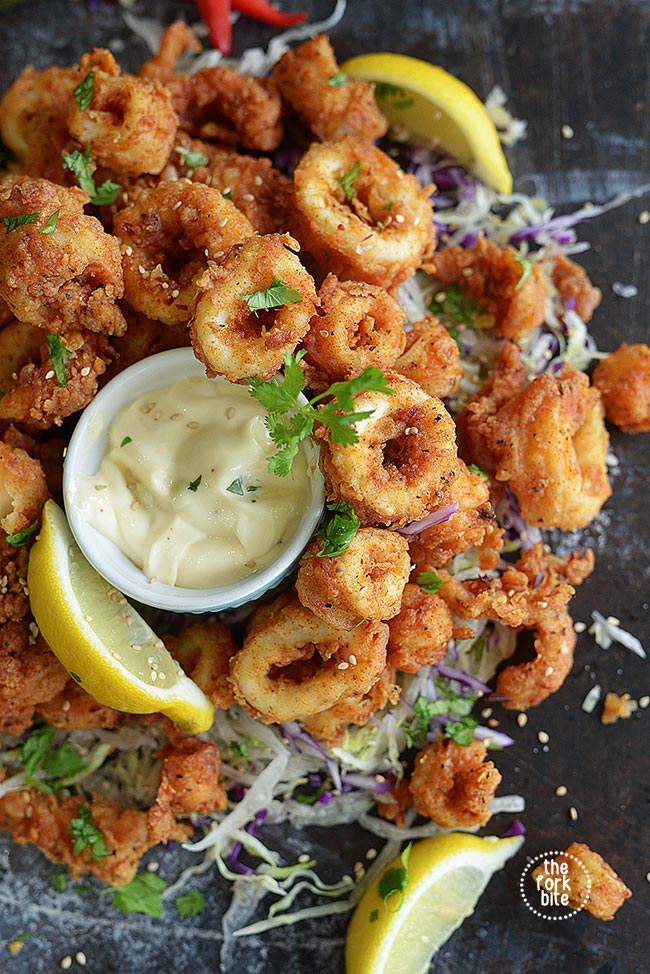 INGREDIENTS: 

Calamari:
1 lb calamari, bodies sliced into ½ inch rings, tentacles left whole
1½ cup buttermilk
1 cup flour
2 tsp paprika
2 tsp salt
1 tsp black pepper
1 tsp garlic powder
1 tsp cayenne
1 tsp red chili flakes
oil for frying
chopped parsley for garnish
lemon wedges to serve
Lemon aioli:
⅓ cup mayonnaise
zest and juice of 1 lemon
dash of Tabasco
salt and pepper to taste
INSTRUCTIONS:
Prepare lemon aioli by whisking together mayonnaise & Tabasco. Season with salt and pepper.
Soak calamari in buttermilk for 20-30 minutes. Preheat frying oil to 350 degrees F.
Combine flour with seasonings from paprika – red chili flakes. Dredge calamari in seasoned flour, tossing evenly to coat.
Carefully drop a handful of the calamari into the hot oil. Cook until golden brown, about 1-2 minutes.
Remove with slotted spoon and transfer to a paper lined baking sheet.
Repeat with remaining calamari. Sprinkle parsley on top. Serve with lemon wedges and lemon aioli.