A quick post today to share these Easter egg filled cupcakes. It's a long weekend as you know and ours is longer because the school gave an extra holiday so I've hardly hard time to catch my breath. And of course eggs.
Chocolate eggs are in every possible place imaginable in my house. And I am not even having an egg hunt. The perils of being a mum to young twins! I was quite sure I wouldn't have time to create Easter recipes but since I was making cupcakes, it struck me that I could have a little surprise hiding in the cupcakes.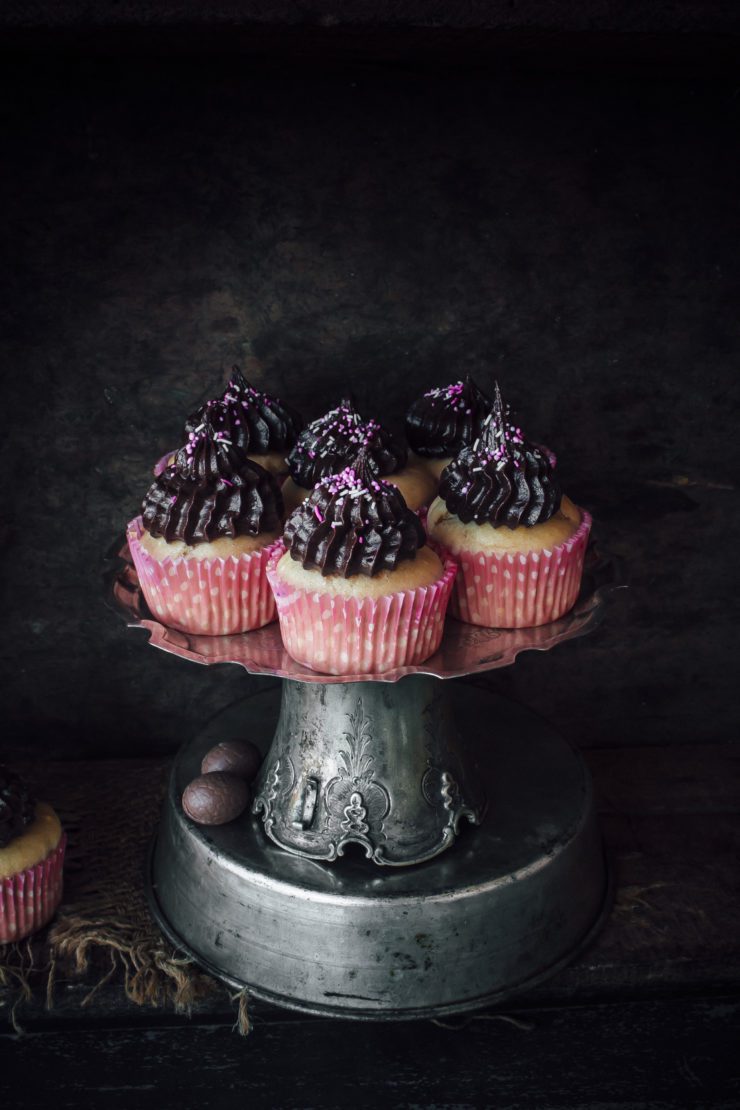 I flavored the Easter cupcakes with brown sugar and golden syrup (you could use maple syrup or even honey) for a caramel like taste and stuffed them with Cadbury creme eggs. Whipped chocolate ganache is my quick, easy handy frosting in these occasions so I made one and decorated the frosting with sprinkles.
Needless to say, it made my little bunnies as happy as ever. After all who doesn't like cupcakes! Even if I am not eating them, I find them such a joy to look at when they are sitting on my cake stand.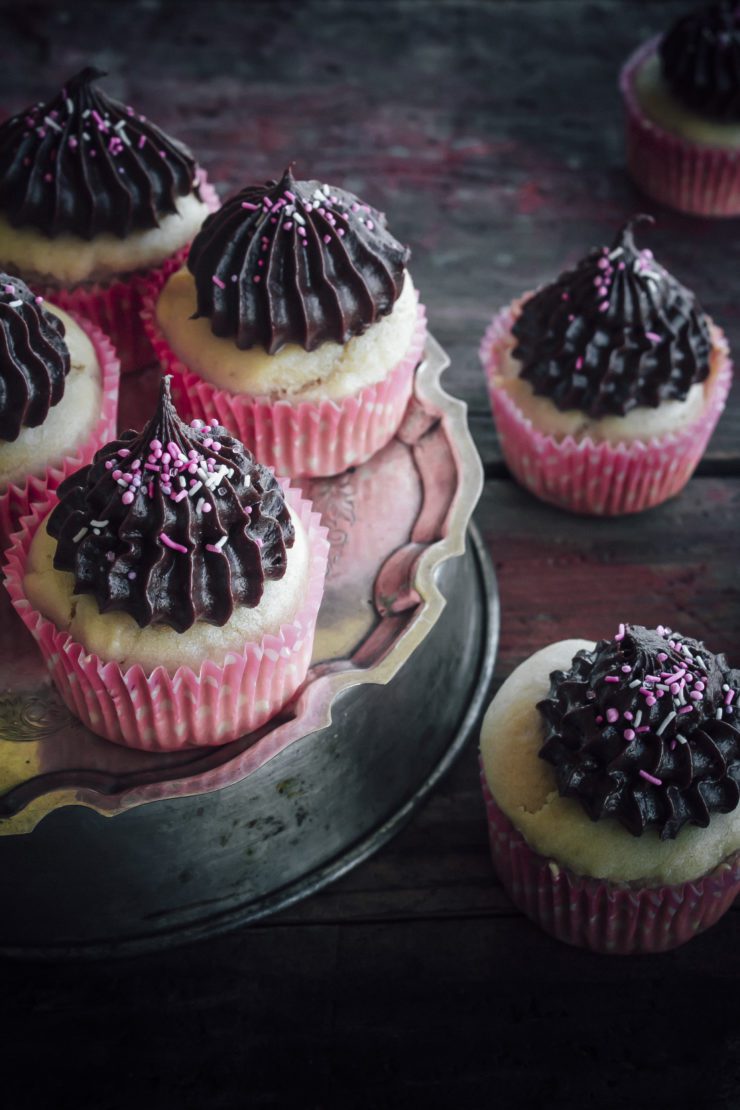 INGREDIENTS: 

2 1/2 cups self-raising flour
1 tablespoon caster sugar
3/4 cup milk
1 egg, lightly beaten
1/2 cup vegetable oil
3/4 cup brown sugar
2 tablespoons maple syrup
Whipped Chocolate Ganache Frosting:

340 g dark chocolate, roughly chopped
1 cup heavy cream/thickened cream
INSTRUCTIONS:
Preheat oven to 190 degrees C (170 degrees C fan-forced) Grease a 12 hole muffin pan and line with paper liners.
Combine the flour, castor sugar and brown sugar in a bowl. Make a well in center.
Add milk, egg, oil and golden syrup (or maple syrup). Mix until just combined. Spoon 2 level tablespoons batter into paper cases. Top with 1 big or 2 small chocolate eggs. Top eggs with 2 level tablespoons of batter.
Bake for 10 to 12 minutes or until golden and just firm to touch. Stand in pans for 3 minutes. Carefully lift onto a wire rack to cool. Once cooled, frost with whipped chocolate ganache. Decorate with sprinkles.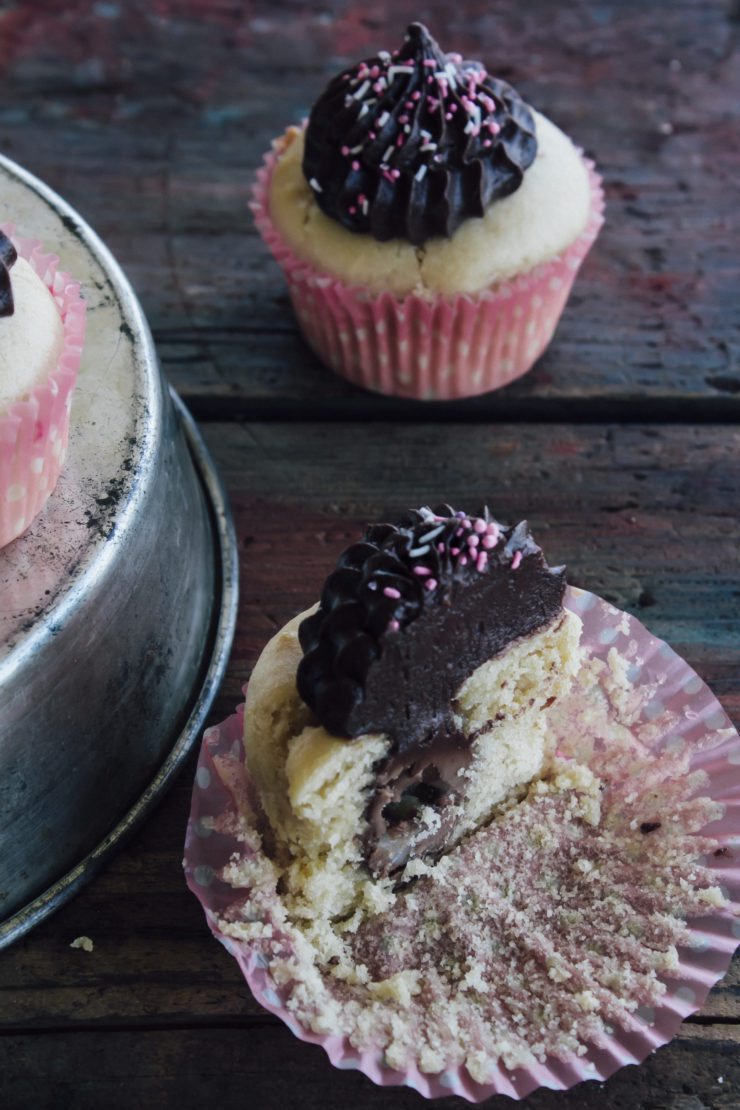 Whipped Chocolate Ganache Frosting:

Place chocolate pieces in a large heat proof bowl. Place cream in a saucepan over medium heat and bring it to a boil. Remove just before it reaches boiling point and pour over chocolate pieces. Leave aside for 5 minutes, then stir with a spoon to blend until smooth and glossy. Let the ganache cool completely before whipping it by hand or an electric mixer until fluffy. It is ready when it holds shape when lifted up with a spoon.
Fill up a piping bag which is fitted with a star nozzle at the end with the whipped chocolate ganache. Pipe on to cupcakes. Alternatively, spread or spoon the ganache on to the cupcakes.