If you are able to get your hands on some especially good corn on the cob, I hope you spare a few ears to make this Chili Lime Sweet Corn Salad. The flavor combo will knock your socks off! Sweet, spicy, tangy, crunchy, creamy- YES PLEASE! You should've seen how fast I devoured this bowl after I finished my photo shoot. Cory loved it too, but the boys like theirs straight off the cob with butter and salt.
When you are buying corn on the cob, try to buy it and cook it the same day. The sugars that are in the kernels will quickly turn to starch after it's picked, and this makes the corn taste tough, chewy, or gummy. And here's a little tip for cutting your corn off the cob without having kernels fly all over your kitchen.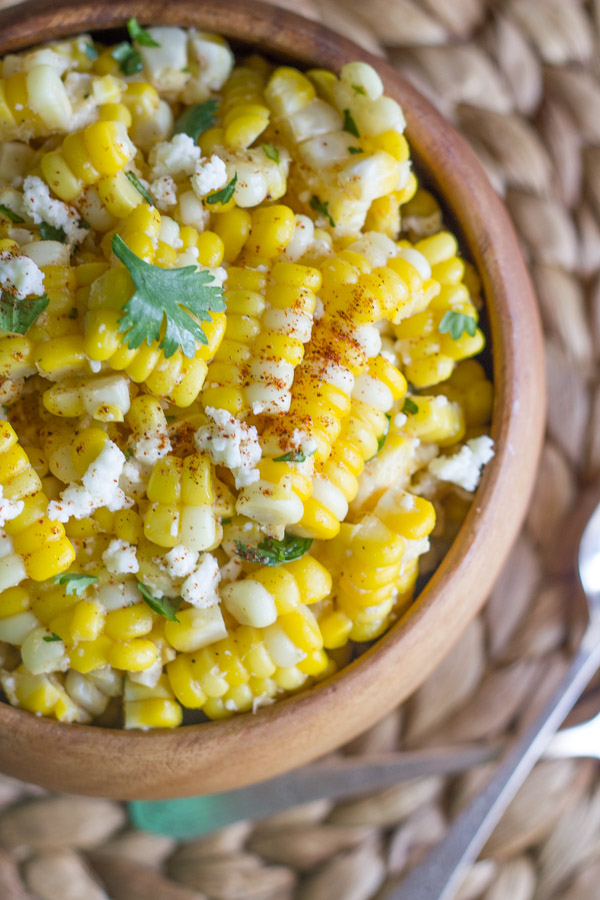 If you own a tube or Bundt pan, stand the ear of corn straight up in the center of the pan, and cut the kernels off so they fall right into the pan. I thought about taking a picture to demonstrate this for you, but it absolutely requires two hands and I've not yet made friends with a tripod so you'll have to just take my word for it. It was one of those rare moments I was alone in the kitchen.
So whether you live in a small town or a big one, or just a big one that can sometimes feel small, go buy some really good corn on the cob and enjoy!
INGREDIENTS:
6 ears of corn, husk and silk removed
2 tablespoons melted butter
2 tablespoons freshly squeezed lime juice
1/2 teaspoon chili powder
1 tablespoons chopped cilantro
1/2 cup crumbled queso fresco*
1/4 teaspoon salt (or to taste)
INSTRUCTIONS:
In a large pot, bring water to a boil. Boil the corn for 3 minutes, then remove and allow to cool slightly so that they can be handled.
Cut kernels off the cob into a large bowl. Set aside.
In a small bowl, whisk together butter, lime juice, chili powder, and chopped cilantro.
Pour the chili lime mixture over the corn and mix to coat.
Add the crumbled queso freso and stir. Season with salt to taste.
Serve at room temperature. Refrigerate leftovers.