Ya see, when broccoli, oil and a wee bit of kosher salt are tossed together on an aluminum sheet pan and roasted in a 500 degree oven… magic happens. The oil crisps the green tops and the broccoli stems so that it's not only caramelized but super crispy.
INGREDIENTS:
1 bunch Fresh Broccoli, trimmed into florets
3 tablespoons of Extra Light Olive Oil or Safflower Oil
Kosher Salt
Black Pepper
Parmesan Cheese, freshly grated
INSTRUCTIONS:
Preheat your oven to 500 degrees.
Grab your knife and cut the stems off of a head of broccoli.
Trim the broccoli heads into florets, cutting the larger ones in half so they are all pretty uniform in size.
Like tiny trees.
Throw the broccoli onto the sheet pan with a heavy drizzle of oil. Because we're roasting at such a high temp I use either extra light olive oil or safflower oil.
Season with a couple pinches of kosher salt, toss them around and then spread them out so they have their own space on the sheet pan.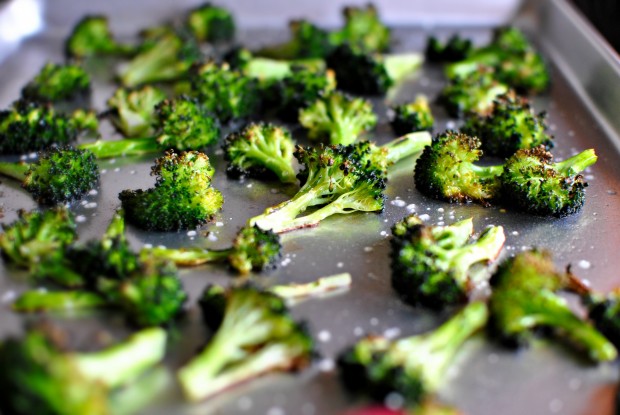 Roast the broccoli in a preheated 500 degree oven for about 12-15 minutes or until the broccoli is a golden dark brown… it should almost look burnt.
Season with black pepper and freshly grated parmesan cheese.
That's it! I'm absolutely in love with this broccoli. It goes with just about anything but it could also be served as an appetizer with any kind of dip.
I definitely could eat these like they were salt and pepper potato chips. For real. Who knew broccoli could be so delicious and yet SO easy?
Enjoy!