Are you ready for a fresh, fun, SUPER easy pasta salad? Yeeeees, you say? P-E-R-F-E-C-T! Feast your eyes on this simple bow tie pasta salad LOADED with bacon, lettuce, and tomato!!! It's dressed in a slightly creamy (and totally addicting) Zesty Italian dressing, and I promise you won't be able to stop at just one bite… ?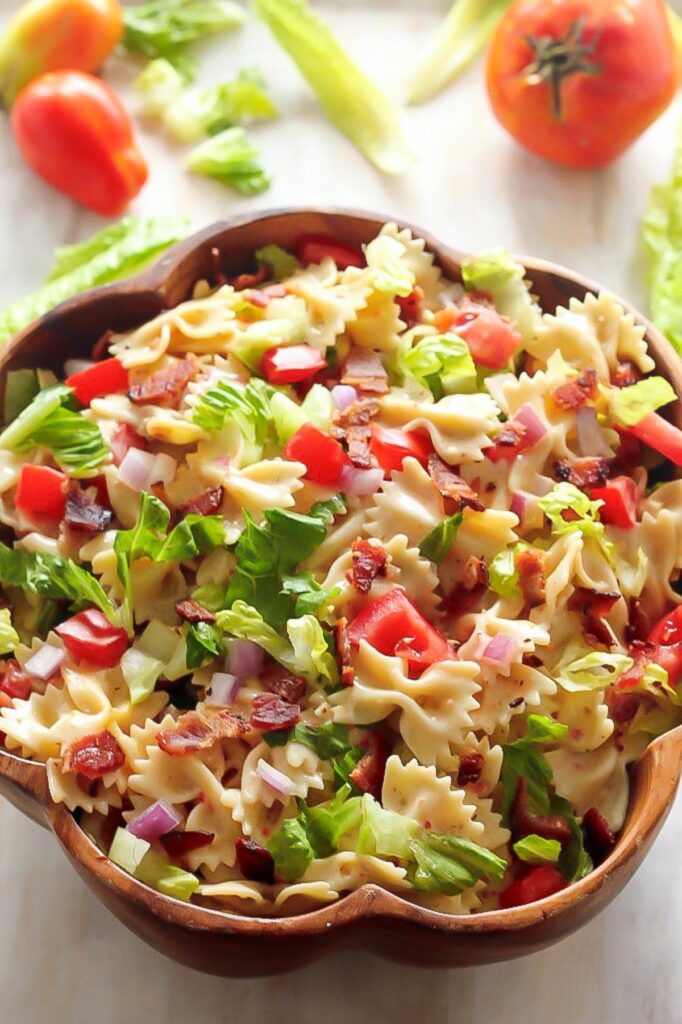 To ease back into the whole real life situation, I decided to take things easy dinner wise and make this incredibly simple 20-minute BLT pasta salad. Creamy, dreamy, and just begging to be your dinner!
The creaminess in this salad is very subtle and comes from the combination of zesty italian dressing and ranch… I know! Sounds a little weird, right? But I promise you the combo is off-the-hook incredible!
The Italian dressing gives the pasta a tangy, herby vibe, while the ranch adds just a touch of creaminess. It just works!
INGREDIENTS:

1 pound bow tie pasta
1 cup Kraft Zest Italian Salad Dressing (Kraft Zesty Italian now has even more herbs & spices!)
1/2 cup Kraft Creamy Ranch (The Classic Ranch is now creamier, with more buttermilk and savory herbs.)
1 pound thick cut bacon, fried until crispy then cut into strips or crumbled (I think strips looks prettier, but it *is more work)
2 large ripe tomatoes, diced (heirlooms work great here if you can get your hands on them)
10 leaves of crispy romaine lettuce, washed / dried / and cut chopped into bite sized pieces
1 VERY small onion red onion, diced
Salt and pepper, to taste
INSTRUCTIONS:
Bring a large pot of salted water to boil. Add pasta and cook until al dente, about 10 minutes.
Drain pasta and rinse under cold water until cool.
While the water is coming to a boil, heat a skillet over medium heat, add bacon strips, and cook until crispy, about 4 minutes on each side. Transfer bacon to a paper towel lined plate.
Place cooled pasta in a large serving bowl; set aside.
In a small bowl combine zesty Italian dressing and ranch, mix well. Add dressing to pasta and toss well to coat pasta.
Add bacon, lettuce, tomato, and onion to the pasta bowl, mix well to combine, and season with salt and pepper as desired. Serve at once, or chill until needed.